Armenian Shvi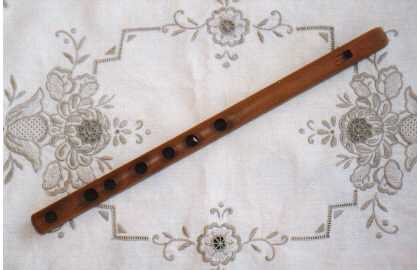 The Shvi (pronounced sh-vee) which means whistle in Armenian, is a woodwind instrument used to play Armenian folk music. Typically the shvi is used for playing pastoral songs which were traditionally played by nomadic shepherds. Their songs "kept the rhythms of the day harmonizing the daily life for all through the dawn, noontime and dusk". The pastoral songs are played by a solo shvi and feature a series of musical segments, each of which has a meaning such as "Come here! Come here!" or "Listen! Listen!".

The shvi is up to 12 inches in length and is made of reed, the bark of willows, or walnut wood. It has 8 holes on the front, 7 of which are used while playing, and 1 thumbhole. One octave is obtained by blowing normally into the shvi and a second octave is attained by blowing with slightly more force. The lower octave has a timbre similar to a recorder whereas the higher octave sounds similar to a piccolo or flute. The shvi's ability to produce such high pitched sounds makes it the perfect instrument for reproducing a variety of bird calls. A popular "bird-call" solo is typically played during a shvi performance.

Unlike the duduk and zurna there is no reed because the whistle-like mouthpiece is part of the shvi itself. The Tav Shvi (Alto Shvi) is made from apricot wood, is up to 18 inches long, and is tuned 1/4 lower producing a more lyrical and intimate sound.

| | | |
| --- | --- | --- |
| | | You can buy a quality Armenian shvi online at the Armenian Music Instruments web site. The most well known shvi maker, Master Rouben Rushanyan, who signs his work with the initials "RR", are sold at this site. His shvis are known for their crisp, clear, and precise tonal quality and are used by all the top shvi players in Armenia. |
Recommended CD Recordings
Various Artists - "Kalaschjan - Rural and Urban Traditional Music from Armenia", Weltmusic, 1992.
A live performance in Germany of the top musicians from Armenia are preserved on this digitally recorded CD. The shvi player is Ararat Petrossian who plays a shvi solo of a shepherd's song and also plays as part of the ensemble on a variety of other Armenian folk songs.

Ararat Petrossian - "Melody of Sunik", Aya Sofia Records, 1995.
Ararat Petrossian is master of Armenian folk wind instruments. This recording features him playing a variety of Armenian folk songs on shvi and duduk.
Listen to a Shepherd's Call. [MP3 Format]

Nor Dar - "Opus of the Lizard", Libra Music, 1997.
Nor Dar is an ensemble that has created a unique blend of Armenian folk and Jazz music. Tigran Sarkissian plays shvi, duduk, clarienet, and zurna on this, my favorite, recording.
Listen to the Shvi play Gomidas' Sari Sirun. [MP3 Format]
Note: If you do not have an MP3 player download the latest version of either Real Player or Microsoft Windows Media Player. If you want to play MP3 files from your hard drive use Sonique.